99 Minutes.

Susan Jion Postal, ordained Zen Priest and student of the late Maurine Stuart, Roshi of the Cambridge Buddhist Assoc., has been studying and practicing in the Buddhist tradition for more than 35 years. Beginning with Dzogchen practice in the Tibetan Vajrayana, there followed Soto Zen study at the Zen Community of New York and subsequent Rinzai based Zen practice in Cambridge.
Format: the video alternates between Susan's own inner Zen journey and scenes of Zen practice, including chanting, a tea ceremony, basic sitting instructions, and a formal Dharma talk.

This video was filmed in 1991, and here is a 2006 update:
Susan is now a grandmother of five, retired from many years of work geriatric facilities, and is now full time teacher-in-residence at the Empty Hand Zen Center in New Rochelle, New York.
To contact the Empty Hand Zen Center:

Empty Hand Zen Center
45 Lawton St.
New Rochelle, NY 10801
Tel.: 914-636-1450
Website: www.emptyhandzen.org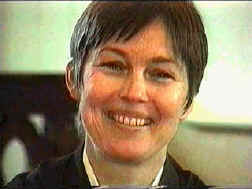 Click on the picture above to
see the beginning of this DVD using Quicktime
See a video clip of:
Chanting at the Zendo
Reviews
"A wonderful tape... encouraging, uplifting and educational." Monos