28 Minutes


At Cottage Grove, Oregon, a group of remarkable people have come together to create buildings out of earth that teach us how to live more simply and closer to the earth.
We are going to meet:
* Michael G. Smith, who trained as a civil engineer, but turned, instead, to this more ecologically sane form of building
* Ianto Evans, a Welsh landscape architect, who adapted traditional European earth building, or cob, so we could stop using our houses to hide from nature
* and Linda Smiley, a therapist with a special interest in sculpting sacred spaces.
And we will visit two beautiful cob buildings created at a fraction of the cost of conventional housing and see people from all walks of life, with no prior experience, mixing cob and building with it.
Reviews
"...an inspirational video because of their philosophy. I was fascinated by the continual use of the word "sculpting"... After watching this video, I am left with a sense of intrigue about a new cause. People can design their own spaces, and it can be done with joy and dance." Dry Country News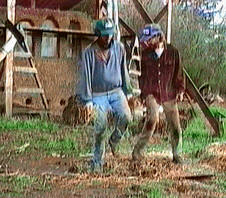 Click on this picture for video
Building with the Earth
Photo Gallery

Listen to:
Ianto Evans