By James Arraj. 100pp, paper, $

9.95

. Printed copies are available. Copyright 1994 .
James Arraj. ISBN: 0-914073-08-7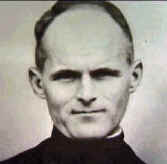 Emile Mersch 1890-1940
The Emile Mersch Photo Gallery
To Emile Mersch
The structure of this work is quite simple, and its goal simpler still.
If it convinces you to read Emile Mersch's The Theology of the Mystical Body it will have served a useful purpose. If it shows something of his genius, that would be even better, and if it allows you a glimpse of the mystery of the whole Christ, that would be what Mersch had always worked for.
Chapter 1 looks at Mersch's life and writings and the tragic circumstances that overtook him and his final manuscript of The Theology of the Mystical Body.
Chapter 2 examines the contents of that book.
Chapter 3 tries to penetrate Mersch's deep philosophical vision which embraces:
a. the unity of the human spirit with the universe, which could deepen the foundations of a philosophy of ecology and a creation oriented spirituality.
b. the unity of the human race which allows the most intense personalism to live in harmony with community.
c. the natural end of humanity which can throw an unexpected light on Eastern mysticism.
Chapter 4 examines the heart of Mersch's theological vision, which is the very consciousness of the humanity of Jesus. This was an attempt at what Mersch calls a meta-metaphysics, or an ontology of the supernatural firmly centered on Christ in whom all the mysteries of Christianity take on their fullness of meaning.
Chapters 5 through 8 apply Mersch's vision to a variety of theological questions: creating a new theological foundation for mystical theology, creation and original sin, the supernatural, and Christian knowledge.
Reviews
"A well-structured and convincing presentation which delivers all the essentials of the subject and invites you to go to the work which it has summarized." Nouvelle Revue Theologique
"Arraj is right in valuing the theology of E. Mersch and in encouraging a deeper reading of his master work." Gregorianum
Table of Contents
Part I: Emile Mersch and his Theology of the Mystical Body
Chapter 1: Life and Writings
The Editing of The Theology of the Mystical Body
Chapter 2: The Theology of the Mystical Body
Part II: The Heart of Mersch's Philosophical and Theological Vision
Chapter 3: The Unity of the Human Race
The Unity of the Universe in Man
Mersch, Teilhard de Chardin and Creation Spirituality
Conclusion 1
All of Humanity is Realized in Every Man
Conclusion 2
Unity of Mankind in the Future
Conclusion 3
Chapter 4: The Human Consciousness of Jesus
Unity: The Human Consciousness of Jesus and the Consciousness of Christians
The Human Consciousness of Jesus in the Rest of The Theology of the Mystical Body
The Human Consciousness of Jesus and the Trinity
The Dynamism of the Human Consciousness of Jesus
Chapter 5: Mersch, Maritain and Mystical Theology
Chapter 6: Creation and Original Sin
Creation
Original Sin
Chapter 8: Christian Knowledge
Conclusion: Mersch's Vision
Notes