By James Arraj. 144pp, paper, $8.95. Printed copies are available. Copyright 1988 James Arraj.
ISBN: 0-914073-22-2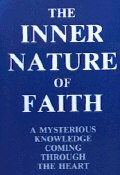 To my Mother and Father
Faith is a highly distinctive kind of knowledge, a knowledge that works through love, through the heart, and because we misunderstand the nature of this knowledge we resist it, or fail to respond fully to its mysterious call.
Part I is a reflection on how I first heard this call of faith coming through an experience of human love, and struggled to respond to it and understand it.
Part II describes three ways in which this knowledge is in the process of being rediscovered in the 20th century: the debates of the theologians on the nature of faith, wisdom and gnosis in the Scriptures and Fathers, and Jacques Maritain on knowledge through connaturality.
Part III is an attempt to understand the inner nature of faith, after the pattern of human love.
Reviews
"The author narrates in a very simple way his own road to faith (part 1). He then cites Scripture, the Fathers, St. Thomas and some thinkers of our century, in order to highlight some of the more important points of the relationship between faith, love and knowledge (part 2). Lastly (part 3) he shares his own reflections, using a philosophical-theological viewpoint - a viewpoint that does not exclude, but needs the complement of a theological reflection; but which finds its fulness in the mystical experience." Revista de Espiritualidad
Table of Contents
1 THE HEART OF HUMAN LOVE
PART II: FAITH SEEKING UNDERSTANDING
2 THE REDISCOVERY OF THE NATURE OF FAITH
Connaturality, Act I
The Role of Knowledge and Love in Faith
3 WISDOM AND KNOWLEDGE IN THE SCRIPTURES
Connaturality, Act II
The Wisdom Literature
St. Paul
St. John
4 WISDOM AND KNOWLEDGE IN THE FATHERS
Origen
St. Augustine
5 FROM ST. THOMAS TO US
Synthesis and Fragmentation
6 JACQUES MARITAIN ON KNOWLEDGE THROUGH CONNATURALITY
Jacques Maritain (1882-1973)
Intuition, Concepts and Connaturality
Connaturality in the Act of Faith
Summary of Part II
PART III: THE INNER NATURE OF THE ACT OF FAITH
7 A TOOL FOR EXPLORING FAITH
8 THE ACT OF FAITH
Theology
Mysticism
EPILOGUE