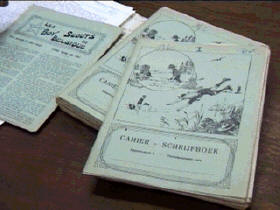 "May 18, 1940. Mersch in an English automobile arrives at the French border at one p.m. The unexpected German advance has created chaos, and it is difficult to find transportation. He leaves most of the old priests in neighboring villages, and he takes the two weakest, saying to the others, "The good God has only given me two arms." The three of them join a Madame Juste, the wife of a military doctor, her parents and children. With ten people jammed in the car and Mersch standing on the running board, they proceed into France.
"The countryside is in panic, waiting for the Nazi forces to appear. At the village of Orchies Mersch, dressed in his clerical garb, asks some soldiers directions, and he is arrested as a potential spy. He tells Madame Juste to go on without him lest they all lose their chance to escape, and he asks her to put the two old priests, Henri Fallon and Bruno Lefevre, in the hospital at Douai, or some rectory in the town until he can catch up. And he tells Fr. Fallon to take special care of his two suitcases and leather briefcase which contain the manuscript of The Theology of the Mystical Body.
"May 23, 1940. Mersch has been released and says Mass at Raches, having arrived at Lens the previous evening. The town is being bombed. At about 2:30 p.m. two soldiers arrive at the rectory where he is staying with the report of wounded not far away. Mersch goes off to tend them and is never seen alive again. At 4:30 p.m. his body is seen lying along the side of the road to Douai, apparently a victim of the bombing, though a story later circulates that he was killed by robbers.
"Meanwhile, on May 20th, Madame Juste has arrived at Saint-Pol around 11:00 a.m. and has stopped by the house of M. Leleux, 101 rue de Bethune. The French military accuse the two old priests of being spies and interrogate them in the house of one M. Hamon. Fr. Lefevre is 82, and Fr. Fallon, 72! The interrogation is cut short by the arrival of the Germans. Fr. Fallon sits down on the side of the road with the leather briefcase and Mersch's two suitcases. Fr. Lefevre wanders off. On May 21st he is found by a passing priest, to whom he incoherently talks about Mersch, who takes him to the hospice of the Sisters of St. Vincent de Paul, where he dies on May 22nd. Later that same day the same priest, Abbe G. Brisors, is ten minutes from the center of town on the road to Bethune when he comes across a body propped up against a large electric spool and covered with a coat and hat. He looks at the man's face and seems to remember him. He looks in the leather briefcase sitting beside him and sees it is crammed with cheap school children's notebooks. He takes one out and sees that Mersch's name is on the cover, and he imagines that this is Fr. Mersch, whom he had once had as a retreat master. He makes no mention of the two suitcases, which had probably already disappeared. Most likely the briefcase was left by whoever took the suitcases, for the notebooks would have appeared worthless in contrast to the personal effects in the suitcases. In this way, Mersch dies, and part of his final manuscript disappears, never to be seen again. He is buried at Lens, and later his body, with those of his two companions, is moved to the cemetery of Bricniot at Namur. (13)" (From Mind Aflame)
Could some of these notebooks actually have survived and are gathering dust in some basement or attic in the area of Saint-Pol and Béthune? Please contact us at arraj@innerexplorations.com